Archive for May, 2009
I just went to Grand Canyon north rim and was walking in the narrow in Zion on the pass weekend with some friends from San diego. What a fun weekend? Starting off with viewing my exhibition at the Springs Preserve and lunch at local thai restaurant, good ha? Then we head off I-15 north to Hurricane, the gate way to Zion, for booking a room for just a night before heading off for Grand Canyon at the Travelodge!!! It usual is about $40/ night, but this timw they want $138 plus tax!!!!!!! just because it was a memorial weekend!!! I was like WILL NEVER EVER COME BACK for this place again. I had been here many time and it was ok, but not this time. So then we top the tank and headed out for Fredonia, AZ, it is the town gate way for G- north rim. At the corner of high way 89A there is a small motel, there is an old red telephone box for you to notice. This motel belong to the old couple, I don't remember the name sorry. It was small nice and clean and they asked for only $38/ night!!!!! Now that is the way to do BUSINESS!!!!! I guess from what I saw this place is filled after less than an hour. I really recommend you guys for your next trip. 
     " Here is the thing, it is because I don't shot digital so right now I don't have and image to share with you yet, but I am thinking to pull some from my archive to share with you anyway. " sorry in advance.
     To continue, after we get the room for my friends, we went out as quick as possible to catch the sunset at Caperoyal on the North rim which was about 80 miles from where we are, Fredonia. It was quick and it was fast in my fried's car, and I drove the end part from the gate to the Caperoyal, 25 miles on a super winding road. As we got there the view was amazing of a big storm cloud was waiting for us to take picture of the sunset scene. It was really beautiful and we have tried many different way to photograph such as a long exposure, I did mine at 15 mins for the last image. I managed to use only my panorama camera, Linhof 6×17, at this evening. We were happy and left the place at dark, 9:30pm Arizona time, for dinner at Fredonia.

    It was a small restaurant own by an old local couple( about half a mile on the opposit side on the motel, she cooks and he serves like. That was a great meal we had. It was really friendly place, good service, big portion of food, good price, and most important was they took us in after they turned off the grill for 45 mins ago!!!! you are the best. Again a don't remember the name, but I do remember that they have a karaoki night on Friday and Sat…so come on in and hang out if you pass by this area. I had liver and onion, so good and not too oilly. It was nig enough for me to save some for my breakfast!!!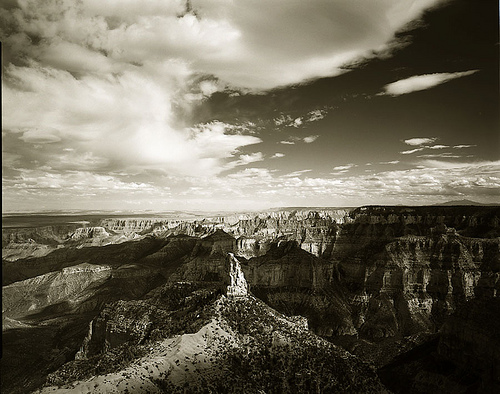 It was 2:30 am at the time we were going to sleep and we was up again for sunrise at Point Imperial at 4:30 am to drive in. I slept in my car, I like it this way, for only and hour. Yes!!! on the go again I know I know I am a crazy man, but hey you get yourself this far also the time and money you put in so I have gotten to do this. All the thing like this always come to my mind at each trip I made, it keeps me going.  We raced to get there as our eyes were still RED hahaha and thanks for my friend, Art at http://www.flickr.com/photos/artsrisak/ for the drive that morning. It was awesome!!! just so you know that was the fast trip I had for that distance, Fredonia to Point Imperial.. We got there as the sun was about to come up. I told my friends to run and get to shot. I think they did. I was slowly to get down there.  It was about 45-50'f and little windy. The sky was filled with some tunder cloud, but not where we want it. Anyways, I think my firends had fun. I have been here many time before so I am good and enjoy watching the light. I took a few shots of the clouds and the mount Hayden with my B&W film on my KB.Canham DLC 4×5 and a 90mm lens with a red filter.
        we were all good so we were back to the motel and heading out for Kanab, 10-12 miles north of Fredonia on a high way 89A, for filling gas and food. It was 12pm Utah time and there were TON of people everywhere. It was also about 85'f- 90'f under the sun. Not a very good feeling, but we all decided to head to the Narrow to cool of and to do some short hiking into to the Narrow.



 The water was dark, high and running fast because of the rain 2 days ago. Anyways, I have been here many time before so I kind of knew the way to get around. So Art and I were going in and I am happy that my friend get to see and photograph this place. We went in about a mile and a little bit before heading out, and we get back to the car to see sunset outside at the parking lot.  We headed home, Vegas, and had vitnam noodle soup for dinner in chinatown.
  It was a short trip , but packed with things we had done. Most inportant is we all get some great photos back home and it was a fun trip with good friend and the land out there…
    Komkrit T.
p.s all images are from my archive.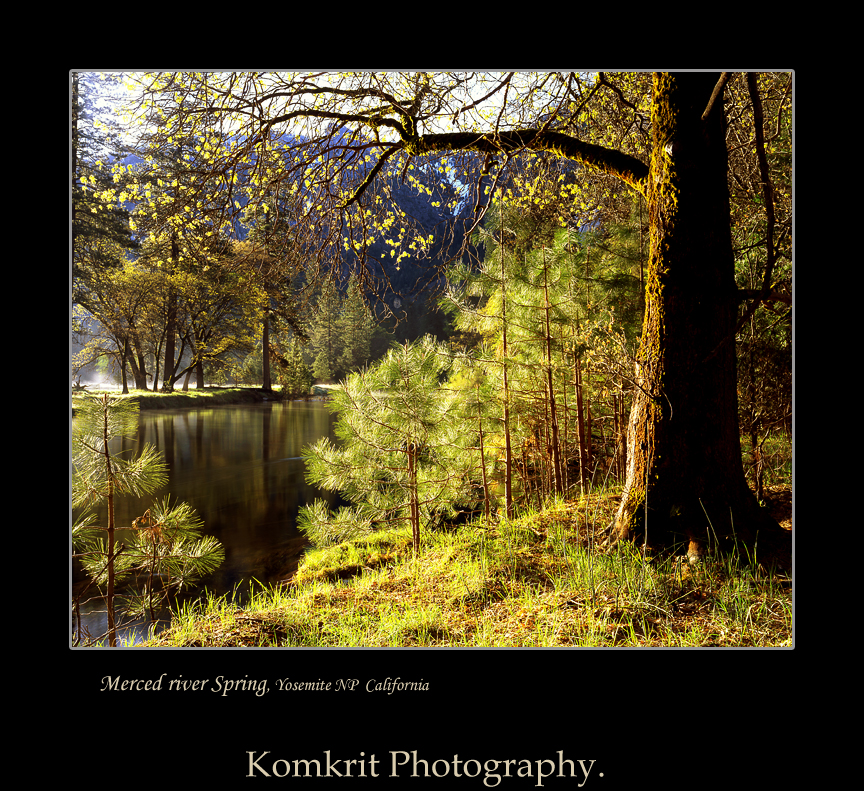 This is hard to be in a place which is photographed countless time. It is hard to find a little corner for yourself to be new and fresh. I photographed this image a while back, and didn't find the right feeling of it till lately. I knew that it is one different one from many out there. I am now found the balance in myself to see it through. On the recent trip I made a week ago, I went here again. It was different now the pine trees are now taller then me, and the leaves were so tight. The last flood took away lot of soil where the pines are.  It grows and changes as our lives…
   It was a fun trip. Not what I had expected to be, but I think I made 2 interesting photographs back home with me. It felt like being at home everytime while I am at the park. I feel more comfortable to be there as I met many people who share same interesting, nature. I enjoy staying in a campground, the smell of camp fire, BBQ, watching people while I cooked my food. From my experince, each park offers different feeling to visitors. I found that I more into Yosemite than many parks I have gone to. Also the challenged idea of making some fresh images of Yosemite is pushing my limitation.
     It started off as I was waiting for my films to be delivered…I paid for 3-5 day shiping, but the film shown up the 6th!!! what was the point to over paid for that..that's UPS. Anyway, I was late for my plan then I headed off to I-15 south then the highway 58 west to Bakerfield. From there I take I-99 north about 107 miles and turn right onto Yosemite highway,  Highway 41, for about 70 miles more you will be right inside the park. At Fresno it was 5am of Thesday which I was supposed to be in the park by then. Well, That was a plan, and we usually don't do well with the plan. I knew that I would be late for the morning light anyway so I took my time look through along side of the road as I was driving by. I passed my of my favorite place, a flag barn. I photographed this site before, but this time was much better looked of it. I spent my morning there and now that I see from my poloriod image of the barn. I am glad that I turned around for this light.
      There is something about this place which I am still feeling of it. It is kind of warm and reminding me on my home. Well, I packed up and headed to the park to look for my camping site. The tip is you have to go there early morning, before 11am, then you will have more chance to get the site. They do as first come first sreve, and it is filled very easy during this time of the year.  I tried to reserve online, and found out that is very hard to do. More than likely it is always full. I got a camp site through everydays I stayed. Bares are common for Yosemite so please do respect the rules other wise you will be target for those bares. They do enjoy our foods. There are bare proof food storage so we much use that at all time. After checking in I went for shower at Curry village. It is free and clean. I did that everyday, but don't go around 12pm because they will take an hour to clean. I shower about 1:30 pm because it was perfect weather and not too cold. There are hot and cool shower!!!! pretty cool ha? 
            I spent most of the first day driving around checking things out. I usually have some ideas after my short self tour. In the evening there is a pizza place at Curry camp. I never miss that. A small for $7, medium $12, large $16 and the dressing are at +$1.60 each item!!! I got large and some onion, bell, and few more. It was $23 !!! Well, I saved it for lunch next day too. It was not cheap, but hey it was a vacation so ok.
         First night I passed out like a light, and didn't feel anything at all till next morning. I didn't sleep almost 2 days from driving. It was a nice morning watching the sun to rise up above the valley. I didn't photography anything because I didn't find anything interesting. So I just enjoy looking around. I came to stop at Cook meadow and enjoy the view of Yosemite fall in the morning. There are pools and spring grass everywhere. The image of the fall reflexing on the water pool was most photographers around me pointed their cameras to. It was so green and warm in the morning. Around 9 am lot of people started to fill up most places.  I photographed some pictures, but not too worry about it.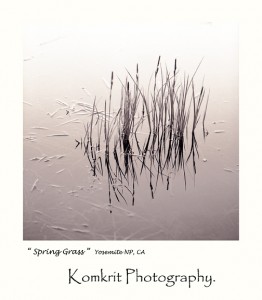 Ansel Adams gallery is a must place to stop for inspiration. Each every trip I made to Yosemite, I have gotten to drop by the gallery at least once. There are some original prints of Ansel, and many famous others. It as best as it gets for me to see the original prints. I learned so much just looking at them alone. There were Charles Cramer's exhibition on the wall,  www.charlescramer.com . He is one most influence to my work. I met him and had a talk with him for a while on my spring 08 trip. He is a great man. His works are quiet, but powerful. I love them as they are extraordinary within an ordinary subject. The more you look at it the more it pull you in, and you don't want to leave. That is the feeling I have when I see them. 
        I sent a card for my parents at a post office near by the gallery which I ususally do when I travel. To tell them I am around. I ate and shower again. The second night was around Cook meadow for watch the light at Half dome at sunset. There after people were exciting to photograph what they call a " Moon-bow ". It came from a Rainbow from a moon light. I was there at the right time of the month to able to photograph it. You almost can not see by your eyes, but the camera can see it. It happens because the angle off the full moon to the Yosemite fall. You have to stand where the moon is behind you and look at the fall. It will start at the upper fall first then the lower fall later. There were lot of people during the evening till around midnight. I shot moon light scen and the Moon-bow as well. There are frog's sound everywhere and the weather was about 50 at night. It was a peacefull night.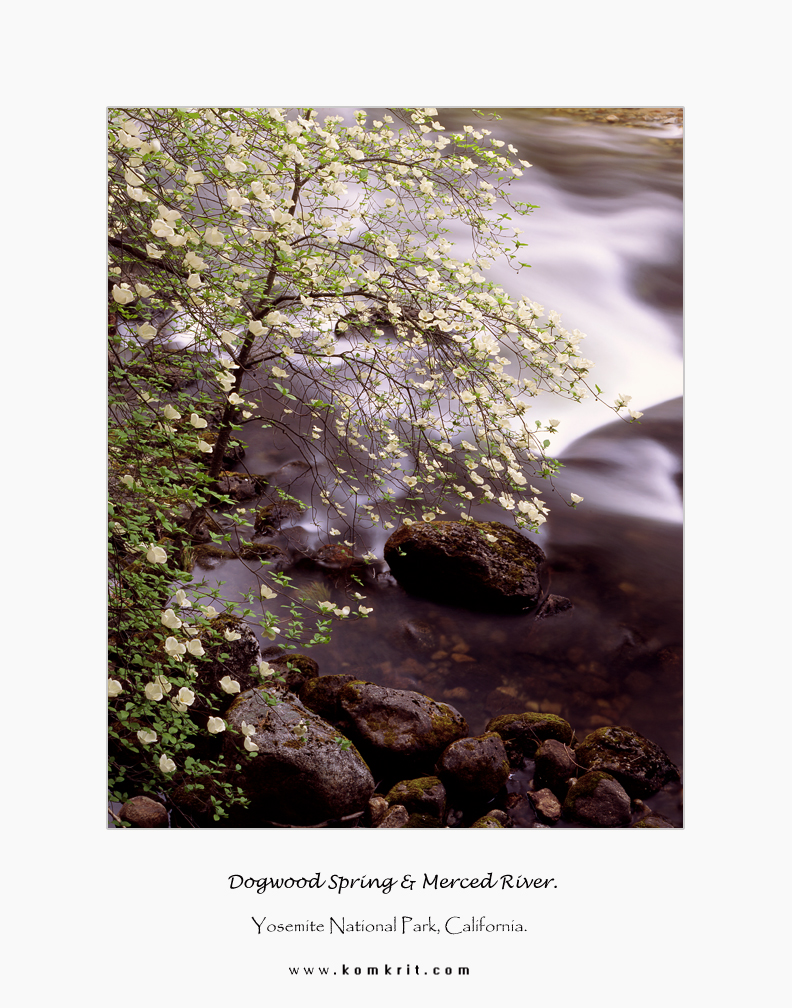 I spent the last day searching for a bloom of Dogwood flowers and I found one group of them which fit to my view. I worked fully under the full sun for few hours for my images. So now I am so dark. It was worth it though. I have those image on film which will be sending out to develop soon. That was one of my exciting set to see later.  The evening was spent by set up my 8×10 and some shot on 4×5 along the Cook meadow again for a spring geass and water. I also did some shot of moon light with my Hassy and T-max 100 film. It was till almost midnight again to go to sleep, but I had a fun night.
    Last morning I allowed myself to sleep in till almost 9 am because I will have to drive back home. I revisited the gallery and watch the movie at Yosemite's theatre, that was a good one which you should not miss. It was about 25 mins long, and I am sure that you will enjoy every minute. I left the village and on the way home. The moon rise that night was a full moon light and I had 450 miles to go. It was about 10 hours and I am home again.
     I will add more photos to this blog as I got them done later on. I wish you will find this interesting at some points. Also, I wish that some infos within this helps you on your future road trip….Thank you for reading…I will be back for more, hopefuly soon.
     All the best.
    Komkrit T.