Archive for August, 2009
      There was a beginning of things we do, and There was thought of what make who we are now. We continue to grow and change every now and then. I did not see myself who I am today before, and continue to wonder of what is my tomorrow will be like. It is a dream and it is a hopeful one. I really enjoy this procese of thinking and living. It interests me in a way of making me keep going forward beyond my imagination ,and my limitation.  For someone this is not a choice, but it is a life style. I think I am blessed to grow in this life style.
      At this point of my time, I come to where there is a small silent voice within my head implying me that it is time for a change. I don't plan this. I don't have this idea before. I don't even know how did I get here, but it is a path which I walk on, and I am guided with the signs. What matters to this? It is TIME.
    I have a feeling that when we were born and continue to live to a certain time, our brains have been over written with all the infomations. We might acknowledge some of the infos, but there are a lot more in our heads which are waiting for time to be re-discovered them . I think everyone has this ability. The different is what one would do something about that.
    Everyday, I keep pushing myself through my own ideas of
  1. Stop just thinking, and start doing.
  2. Stop just listening, and start making.
  3. Stop just looking, and start experimenting.
  4. Stop just worrying, and start living.
  5. Stop just following, and start believing.
      These are what one must gets through to be able to create one's strong idea. That idea will support you in every way you are and what you do.
        We should not be afraid of our own identities!
       My small little voice in my head now brings me to new ways of seeing and doing my work. I re-discove that I had experinced of the way I see things now before flashing in my head time to time, but it wasn't the time for me to see it through. I am not saying now that I see it through 100%, but I am seeing it enough for me to make a move and carry on it. What do I lose at the end? Nothing, but I will gain the experince. This procese must be repeated over again and again. I believe this is an only way I learn and it is the best way for me.
       I now find stories in an ordinary.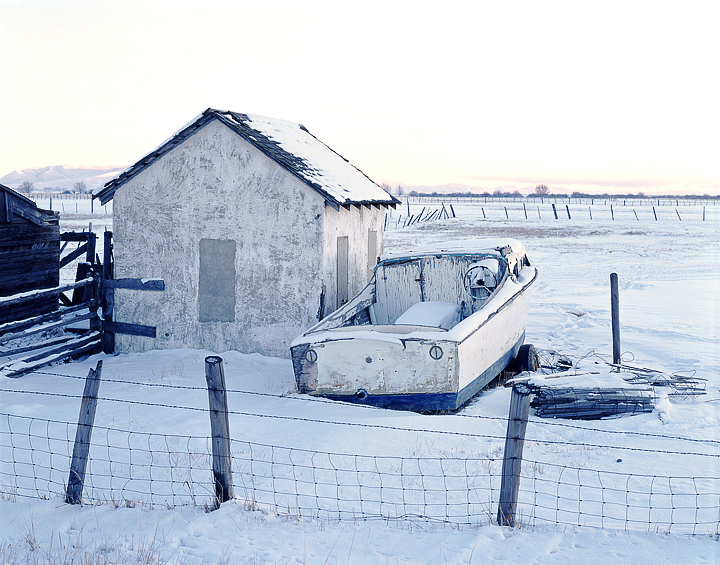 Above is close to how I see now. This was photographed Dec 07 in Idaho. Most of my new body of works now are made by an 8×10 large format camera. There is a way about the camera which makes me look at the world  differently. It has began for sometime, a few years, but it is now that I relize that this is what I feel appealing to my heart most. On my lucky day, I would come home with one exciting shot, and that is already more than enough. If it is not, there is always a next day.
       I am roaming my town now. I am experincing Las Vegas the way noone ever done it before. It is fun.
     Thank you for reading.
     KOMKRIT T.