Archive for September, 2009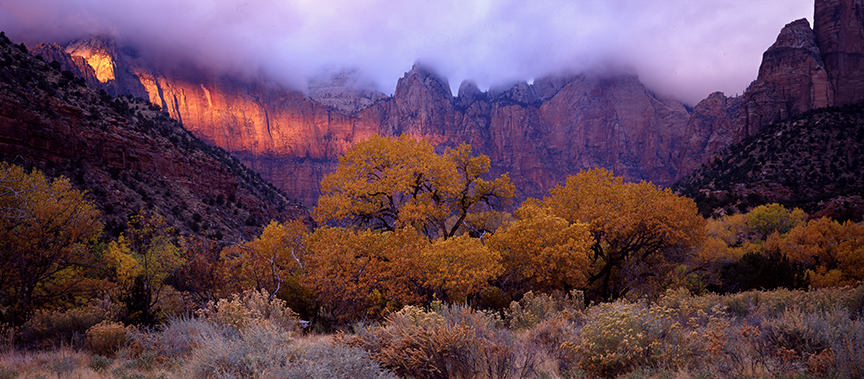 A storm during fall color in Zion national park. The negative was made in 2005. This is an early work for my 8×10 camera. I got up at 4am where I camp outside of the park because I knew that by this time of year there will be load of photographers at the spot. So wherever you want to go or what ever you want to do, you would have to live with a lot of people. I like to work alone and quiet when I can. I set up in the dark under my head light well way before anyone came by. By a little over 5 am, there are more than 30 protographers line up on this field. 90% of people would consider to who which is there first by not walk over infront to where the camera is set at. However, to your surprise there will be some that think a little different or careless of what other people might think of their behaviour. They will just walk right infront or intend to set up infront of you which you are already set up long before. Please don't do that. Please don't let them do that to you as well. 
      There was a guy saw me even thought I was far away from a major spot. Soon he was walking to almost into my camera field of view, and not tend to stop walking. As he walked by he flated the grass and little plants by his foot steps. I had to say excuse me you are going in to my view!!! then he stoped and set his stuff up there!!! Wow!!! that was really amazed me of how one can be. However, we all mange to get our photos peacefuly. I knew what I want and I shot only what I want. After 2 photographs it was done for me. There they were still shooting also there were some people who just came, and try to get a shot. I often feel great to work then watch, as I packing up mu stuffs, other people of how do they preserve their ideas over this photographic opportunity. There are a lot to tell about each one who were there by doing that, and that interested me.
    Ok anyway at almost every year during this time, I am more happy than ever. I feel of those holiday season. I feel of a great time, great memory. It is a time which I remember most of how happy we all can be.
   Yesterday was the first day of fall, I was busy working and was so tired after work. I actually intended to do this yesterday. Well, here I am. Better to be late than never.
     Eventhough, my new body of work is the other worlds way from this, but they are connected within me. I usually think back of what I had done during this moment of time in years before. It reminds me of great memories. Everything, and everyone are part of who I am today. Thank you to all.
p.s sorry for a bad scan, not much of space and time.
    Hi  all…
        I am trying to up date my blog once a month at least to share to you of what I am and what I am doing. I am now working on my project which is " Only Vegas ". I now mostly work with my old 8×10 camera at very early early morning in Vegas. I document town as the way that not many people pay attention to. It is a norm for us who live in Vegas to see  billbords with almost neked ladies images on them around where I live. Once my friend, Brianna Bangle, and I used to joke about it. She is a native of Vegas that's why she is not too happy about those billbords of some almost naked images of those grils . I totally agree with her because we are not only adults who live here. There are many kids here too . To the world this is such a special town beside what makes it famous. I have done it for fun sometime before, but just this year I grow to love it. SO please stay tune to see what I can come up with. I am influenced by Those masters from 70's like Stephen Shore, Joel Sternfeld, Adam Bartos,and many others of the way they captured america with their big cameras.  There is something about the way they saw images through the ground glass. I find that very interesting way to do it. It captures my voice, my idea that way. Also it is very hard to work with an 8×10 camera both weight and cost, but when it is done right it is most interesting way of image making for ME. With the resolution of an 8×10 negative we can print so big and the feeling of viewing images that size with that clearity…it is just beautiful to my eyes.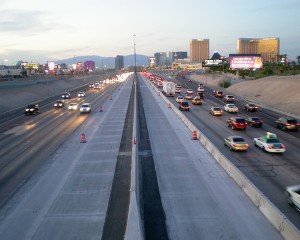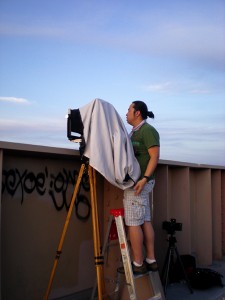 I am always changing and growing to see and love things for my work every each year past. I still use my 6×17 both the Linhof and my Canham, but not as much as I used to. I used them when there is a given view which I find when I am out roaming the town. It is like I set a tool to fit a work thing. I wish that I do more of 6×17 as I think back and forward about many interesting compositions I came across. However, today it is what I am working on now with 8×10. So tomorrow maybe it will be 6×17 turn.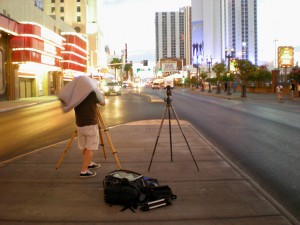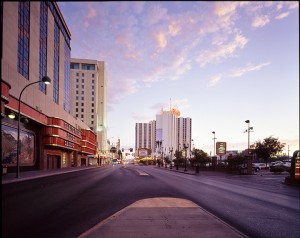 I am spending about $700 for each 50 sheets box of film. It means 50 images I can make. It is now only last about a month!!!! I have no idea of how far I can go on with this, but I am not regret about it because I can earn again later. What I can't earn back is TIME. I am now out of film. I ordered a new one which is coming soon. I have over $2,500 of films sit at home and waiting to be send out for procesing. I don't have money for it yet. SO it has to wait, but for shootig I can't wait for it. So most money I earn beside all payments is going to that.
   I am now working a lot same as before, a sushi chef. I have hardly sleep. I try to keep up with work and life as much as I can. I work late shif 3:30pm till 12am then go home to sit on computer for a bit till 4am then head out to the towe looking for my photo. Back to sleep at about 10am if I can sleep then got up at 2pm to get ready for work. This is my most day like for now. I am so far off from the world around me. It is what it is and this is now what I like to do.
   " The sun rises once a day and sets once a day. Therefore, I am telling myself to walk one step at a time in which way I can. I try to feel the moment on each step I take. That means a lot to my life of how is every moment remained mine. It is not the result which make me happy, but the procese of doing it intrest me most. After all, if what I do will benefit to people who is needed, my goal is completed "
       These are images of the way I work. Before I decided to move up to biger camera. I was roaming town with a 4×5 camera. Those images which were made early are from the 4×5 large format camera. This year mainly I use my 8×10 large format camera for my most work. As I said above that the films need to be sent out for processing soon to see what I have done. I like a feeling of looking back through those films when it comes  back to me. Please stay tune.
    " Life is good my friends. "
      Thank you for reading. See you soon.
       Komkrit Thusanapanont.