Archive for December, 2009
    Hi everyone…. I wish you all MERRY CHRISTMAS…..I wish your family and yourself are at best. It is great to be with one whom you love and dear of your life today. I am with myself so I have nothing special going on beside I will be going to work this evening…. yes it is called billsssssss!!!

   However, sorry for a long absence. I have been out on trips to make new images and to review myself about my own life. It was a long distance trip. As I always wish to visit Piramid lake and New Maxico for a long…..very long time. I went to the Piramid lake on the first week of this month then I went to New Maxico on the week after. It is quit a distance which I would not be able to make it in 3 or 4 days off from work. I had 4 day for Piramid Lake and I had 10 days this time for NM and I was all over. I started from the south very near the Maxico border. I intended to visit the border on a next day but I got GREAT news which a person who worked at Motel 6 the night I first checked in, only night to change my large format films, told me that   " They have been shooting daily downthere everyday and you've better not be around " I replied to her " wow!!! my trip is already getting excited!!! " so I change the plan not to be down there.  So I spent one more day to shot at a White Sand national monument. It was amazing place which was created by nature over years….
   Ok I am back, thanks for being patient with me. Yes, at the White sand was great. What I had noticed was that the dune itself is not that tall and all pretty level from one to another. It is huge and you can hike miles out there if you like, but you have to get a permit to do so. The park open at 7am in winter and close at 1 hour after sunset. I know right that we now tight with time. I heard that someone said to me while I was watching the cranes at Bosque del apache wildlife refuse area about you could pay $50 to the park then you would be able to get in the park an hour early before sunrise!!! I haven't known anything like that before and it could be right. Well, I was not that interesting to do such a thing anyway. I just want to enjoy the park and if I am lucky I would be able to photograph something back with me. I did some good ones on the second days before heading out from the White sand at night to the Bosque del apache for seeing the cranes. I got to right at the sign at around almost midnight then make a bed and sleep in my car. It was yes again a cold night, but I felt great in a sleeping bag inside my car. I dreamed about what I will see at first light….

    At first light there were about 3,ooo cranes and lots of others ducks and birds, number was from a visiter center, getting ready to take off looking for food at fields around the area. There were many photographers with long lens!!! the shutter's sound and the cranes sound were combined together, and it was like a life music show. They took off between 3-7 cranes at once. Then it took about almost an hours after sunrise, the water area was left empty and await for birds to come back and rest in the evening again like this till winter is over. Those birds will fly aways and it will be quiet again till next winter comes.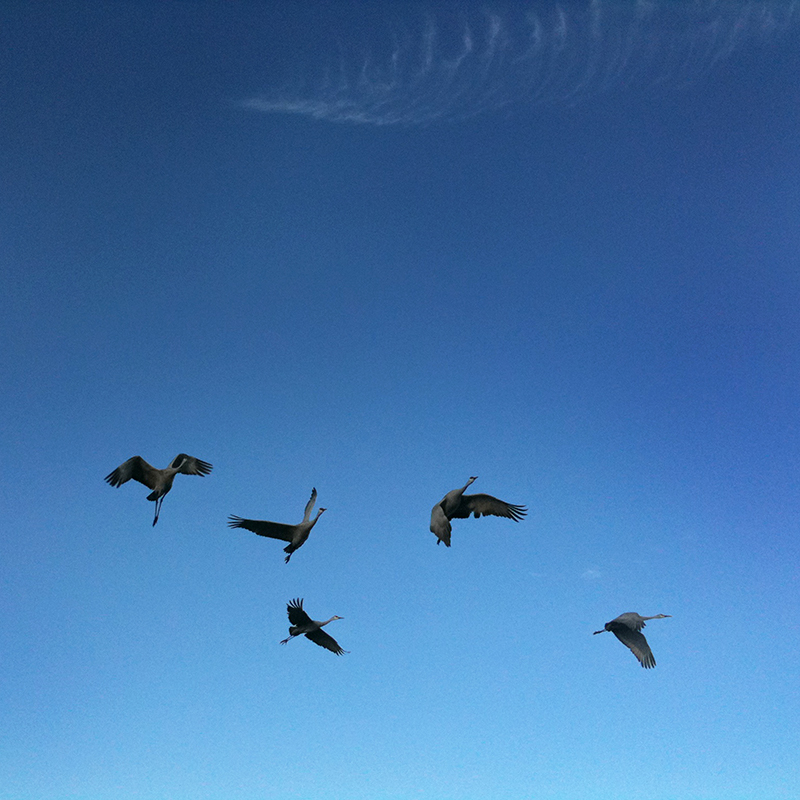 Did I mention to you that I actually live off local food than I used to. I did brought some food with me just incase, but I enjoy trying the local food. Yes, some was good and some was ok. This trip I didn't get sick from most famous american fast food, Mcdonald's. I live off Mc for brackfasts. After watching the birds I went to town, Socorro, for food and then got ready to go to a National radio wave dishes out in the middle of no where about 50 miles on highway 60 west from Socorro. Again it was an amazing place with lots  of huge dishes. I think you should visit if in the future you are in the area.
        I spent few hours here then I headed out for Santa Fe. It was about over 200 miles a bit on I-25 north. I went through Albuquerque and after about 50 miles north I was at Santa Fe. It was rich busy town. I didn't find that I like that much. I only walked up and down the Grand Canyon St a little bit then I went for dinner at one of Thai restaurant. I have come to appreciated an iphone a lot more on this trip. It helped me on maps and directions better when I need it quick. Well, food was good and now what in general idea of most people would be was lookng for a place to stay and hiking the town tomorrow!!! I didn't find that interesting at all. What I did was I felt that I better get out of Sanata Fe soon, and I did. I drove back down to Socorro again to see the cranes in the next morening. Yes it was almost 160 miles down way. I actually had plan to visit Taos after Santa Fe, but after found out about how it is in Santa Fe then I think Taos would be similar. I don't have feeling for such a rich town like those. Everything is very expensive, very difficult to find a parking space, and etc… Maybe because I don't fit in the place like that so I think I should leave. I did got to a Motel 6 at Socorro at about 11 pm, and I felt so great and excited to be able to watch the birds again in next morning. It is pretty common for me to do things opposit than most so here I am watching the birds in the morning. There was no wind and I was able to photograph some image with 8×10, 6×17, and 6×6 cameras.  It was great experince to be there trust and you should try for yourself sometime.
    I was looking for plan to do in the afternoon at Mc again. I thought that I should visit some of the old missions in NM which some of them was build in 1598 like an Old San Miguel Mission at Socorro. I did visit the place while I was in the area and I headed to the another one I am sorry that I could not remember the name, but it was like 15 miles south of  Albuquerque. It was in the area of an indian, Pueblos Tribes. They are very strick about outsider visiting their area. I was told by gently older indian lady to be aware of situation which might happen when I was visit the Mission. She told me to not get out and walk around the mission area and try to finish my photo taking as fast as posible because she doesn't want me to get in trouble with the local. They might take my films aways, that what she said to me. There were some warning signs before getthing in the area about what is and what is not to do, and photo is one of prohibited thing!!! I had not seen the sign coz I came in a different direction. Then ok I visited and I took some photos… it was time to get out of here haha.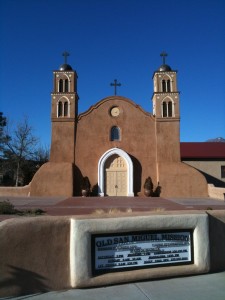 Here is San Miguel Mission.

   Above is the one near by Albuquerque.
   So far I had been tired from not much of sleep and driving, but I was still up for everything 🙂 I was thinking to visit one more mission in Acoma which local known as a Sky city. I arived early and visit one of the best museum at Acoma. It was build not too long ago, and was designed by a group of 12 artists from Santa Fe. It was amazing museum in the middle of no where I have ever seen. The cost to visit the Sky city where the mission is located at was $20/ an adult and a $10 fee for picture taking. Also they not allow tripod up there. It was a hazy day and the light was not good enough for me to be up there even just to check it out. I knew that I will  be back here again someday. Therefore, I decided to leave and heading to north western NM for famous bad land 40 miles south of the town call Flamington. By the way AT&T service was not as they promote on the TV. while I was out in the desert, most of time I could not use my phone at all. The weather report said there was a big storm coming in the whole US. I was like wow that will be fun. SO I drove and drove almost all afternoon till I arived at the entrance. Bisit wilderness sign was infront of me. AT about 3 pm local time, I was hiking out into the land I was once visit 4 years ago. It was red, green, orange, and many more shade of colors on the area. It was not anything we seen everyday kind of place. Lots of hoodoos. It was beautiful place, and it was very loney place.
     It was almost a mile and a half out from parking area. There are countless posibilities for picture if you like to be alone for a few days with no phone, no motel, no water. I got back to my car after dark then cooking some food, and get ready for bed. Yes it was a good night because after all I had been done. I went out like a light, and up again then the sky turned to a dark blue color. That morening I was blessed with a small rain shower. I went out for a morning photo for a bit then back to my car for food and ready for a long day out there. I met a new friend, local dog. He looked friendly and skinny. I felt sorry for life sometime it is not a choice which he made, but he has to life his life. I share my food half of what I had with him. He looked happy, and I am happy that I can do a bit of help. Now I am having a new friend. "
  " My dad told me once when I was a little " he said when I feed a dog once we become a friend for life "
    The orange yellow dog reminded me of my dad. It was a good thing I thought to myself as I have packed my camera and some warm cloths. I left my car about 9:45 am wandering around all day with lots of dreams and ideas. Every step I walked I put my thought out and imagine what all dreams can be. I only heard the wind and my one breth sound. I was alone and the world had opened itself for me.
     Lots of lives stories went through the day. Sometime there was a question with no answer came along. Sometime, it almost made me tear. I was alone again and I was at a big land. I was only an outside piece of its system. I only came to record how the place was like and share to the world. I was blessed to be there. In the evening the real storm rolled in right after I compleated my last photos of storm's clouds. It was low over the open desert. It brought rain and snow with it. I was soke and wet as I was hiking my way out of a mile and a hlaf. I went out with my 4×5 and a 6×17 cameras. All day I was able to use both. Please wait for a while till I have enough money to develop them, I will share to you here in the future.
        I said thank you to the land at the end of each day. I did said thank you again for this visit as I was ready to drive off. It was cold and I tried to dry myself off. It was snowing and foggy all the way to the rest 40 miles to the nearest town, Flamington NM.  I check in at the Motel 6 again after 2 days out in the desert. My large format film must be re-load. It was $40.30 one person. The room was ok. It was funny to read its review from my phone, that was how I look for stuff in my iphone. Most people wrote things down because they not happy about it. It is a few that people wrote a happy thing from it. It doesn't matter to me anyhow. All I want was just to re-load my films and a shower. It was a town of oil and natural gas. There are about 75,000 people there, but it seemed so quiet to me. Well, I again look for asian food and came across a Thai restaurant, Boon's Thai restaurant. I recorment it to you if you are in the area. The foods were good the people were friendly. That's what you need when you away from home. We became friend, and for sure if I will be there again, I will stop by. Thank you for your friendship and good foods.
     Shiprock is a heart of fourcorner people especially Navajo people. I have no idea of how did I become so sitimulated by it. It has been so long for me to have a feeling that at least once in my life time I would love to visit the Shiprock, and with the up close style. I got some togo lunch from Boon restaurant then I was at a town of shiprock at about 3 pm local time, mountain time. I spent about over an hour to find the way to the rock both by looking at my map and my phone. I finally went after a direction I was given from a local older lady at a gas station. It was a rough drowing!!! and the another older lady said " why do you want to go close to shiprock? " " I said it is a beautiful rock!!! they loughed and wish me good luck.
      Finally, I made it to the gateway. It was almost a foot deep snow there and I saw a track of one car made before my visited. I told myself that I came this far already so why not do it. I put 4WD and rocking through that road slowly. I made it so close to the rock. It was huge and mysterious rock. I photographed it with my 6×17 on B&W film first because it was really really windy. I thought that I might not be able to shot anything at all at the moment, but I did set up my 8×10 anyhow. I then got inside a car again because of the cold and wind. I watched the light and storm were continute to change. Finally all the clouds were gone except at the western of the sky which blocking my sunset sun light to me. I was praying and praying. The hope I had was lower and lower, but I told myself that just to be here was already exceeded my expectation. As I continuted to watch the last light, the light went through the western clouds the lit up the whole shiprock. I ran out of the car and went to my camera which was set out hours ago. 
    The miracle happened!!!! The wind which was about 35 miles/ hour or more had paused for me randomly and gave me a chance to do 4 shots which 2 of colors and 2 for B&W. It was miracle I have not experinced before. The light was perfect nad the wind was paused… now I hope that I did it right. We will see later. Therefore, after the forth shots, the wind got hard again and there was no pause in the between. I asked myself what was that which pause the wind… MIRACLE.
     I continuted to stay and decided to sleep here. As I put my 8×10 away I had 2 shot of t-max 100 on my 6×6  camera left. I put it on my wood tripod and make it wide and low as posible to hide it from the wind. I did first one with an 80 mm lens at 3 hours at f/11 just right after it got dark, and I did a 9 hours exposure f/11 with my 50 mm lens. Both images were shot under the 1/4 moon face. There was enough light especially when there was snow on the ground.
     The wind continuted to rock my car while I was sleeping. I woak up at 6 am to close my shutter before the first light ruin it. Before the sun rise I set up my 4×5 with a 300mm lens. I photographed about 5 exposures both color and B&W. The wind was still strong, but at the light got lighter, my shutter speed got shorter. I hided my camera behind my car and took my chance. It was great experince to be there and to do all that. The ride out was not less interesting at all. The wind took all the snow to cover my own track so even with a 4WD it was a bit hard to drive. I made it out ok. At right out at the gateway someone wrote on a slop side on a snow… "  Merry X' mas "  a huge one. I admire that someone trying to give others a great day. Thank you. It was Dec 24 2009 morning.
     I finished my trip at Monument Valley. I thought that I already came to this area so I should stop to visit. I did went on a new fresh made parking area with cost of $5 to get in. It wasn't look like the old one I have seen anymore. There was a big hotel which a land development people from NM invested on it. It was called " The View " . Those old red picknik tables were gone. I love those ones. Everything has changed so as ourselves. I only have to except it. However, I have not thought about that too long. I decieded to drive in the 17 miles lupe's drive. It was 2 times I went down here. I saw different thing now. I am changed. I enjoied it a lot more than my first visit almost 5 years ago. I photographed some images for my " Road Trip" project. Something different than what we know and see of Monument Valley.
      I had become a buddy for life with one of a puppy 5 years ago at the John Ford point. I fed him with a loft of bread then. I didn't expect to meet him again, but had a little thought about it while I was driving. There he was with his mom siting where we first met. Again they ran after my car after I parked. I didn't have much this time because it was my last day. I fed them beef jerky which I had left. They look happy and I am glad to see him again. I don't think he remember me, but " Maybe "
      Love was done again on my own path. It is a journey unknown, but it will always be guide by my heart. Who knows of what we may become, but once we know what we love and what make us happy other things don't matter anymore.
      Thank you for reading my journey. I am appreciated your time and you are here.
      Merry Christmas my friends.
      Komkrit T.