Archive for June, 2010
         The Friday night of June 25, 2010 me and lots of many others were invited to join the openning reception of the exhibition " Unnatural History ". The artists were Richard Barnes http://www.richardbarnes.net/ , and Don Simon  http://www.donsimonart.com/ . Both are great speakers and works were fun to study.  The exhibition is at Spring Preserves, Las Vegas, NV. I would like to say that if you have time, you must check this out. It is not easy to see the works of international acclaim artists in town. It is great when once in a while we are around by art, especially great arts!!! Here is a PDF of this show so you can study about it more before going there. http://www.springspreserve.org/assets/pdf/events_unnaturalhistory_guide.pdf . There are many 40″x50″ photos by Richard and nice 28″x28″ and biger of Don's works…. Also you will get to see my favorite " Musk Ox " life size on display too… what would you say?   Ok Here are images from last night…
From left to right, Mike Spiewak ( SP's curator ), Richard Barnes ( the artist ), and myself.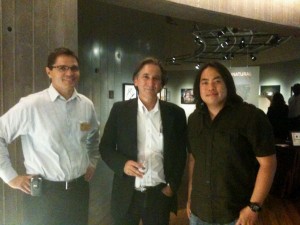 Thank you for reading, and if you are in Vegas this summer, now there is an another place to check out beside, you know, the Strip….again 🙂
  Best everyone.
  Komkrit.
An early morning at Grand Teton national park.

       Hi all for June. How are we doing so far? Well, it is 108'f already in Las Vegas!!! Yeah, we didn't do 90'f, but instead that we just went over 100'f from 80'f. I just came back home from a long 8 days trip to Yellowstone and Grand Teton nation park in Wyoming 3 days ago. This is a quick hello to everyone because I will be out of town very early morning today, a few hours from now. I have to drive to Santa Barbara to pick up my films and drop some off at http://www.colorservices.com/ . This lab is awesome both service and care. If some of you still do film, I would like you to try them out. I am sure that you will not be disappointed, I didn't. Ok here is just a preview and I will be back for more soon…
   to be continute…
   June 12 at 12:15am.
      Sorry for the wait. I am now just coming to a slow mode. Yes, I went to pick up mu films and drop some off 2 days ago. There are a lot of interesting images coming home with me. It is a matter of time which I need with them. I like to wait and see which image growing in my by time. Soon later I will work with them and I will share them with you here.
    I went out yesterday evening because of the clouds and light for my project, Only Vegas. It was almost happening. The wind was too strong and there was a cloud blocking the last light for my image. I set my 4×5 camera up and only had a chance to watch it to see that the wind would blur my 1 secound exposure. It was about 40 mile/ hour. Well, it will be an another day for this.
    Ok here is an another image I'd like to share with you from Grand Teton… Hope you like it.
After sunset at Jackson Lake, Wyoming.

  Please enjoy the view. It is late now and I am sleepy, not much of sleeping from many thing I have done in past weeks. I will be back and write more about things very soon. See ya.